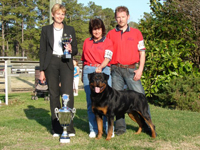 In 1988 we bought our first ADRK Leistungszucht bitch "Mona vom Eisplatz", in 1989 "Olga vom Eisplatz" and in 1990 "Peggi vom Eisplatz".
With all these dogs we did social obedience, tracking and Schutz.
We started to breed in 1989 under the kennel name "Du Dauchant" Da: Damien (our son), Au: Aure (our daughter), Chant: Chantal.
Our first aim was to breed a family dog with very good character, willing to work and of course according to the breeding standard. We always took males from very good German bloodlines.
We got the owners of our puppies involved in showing and working with their dogs. We therefore created a K9club at home. In order to offer a good service I followed the training courses at the St Hubertus to become an obedience and tracking  instructor. I passed the exams as an obedience instructor and also as an IPO instructor.  We organised some obedience competition, IPO and even a Club Show.
I also followed the Ethology course at University of Namur and after being several times assistant to International Judges; I passed my theoretical exam in June 2001,in 2003 my practical exam and after having jugged the Brussels Dog Show, I was qualified as International judge in 2005.
In 2005, I had the honour to judge:
APRO Exposiçao Sao Paolo 02:04:2005
The National Chanmpionship in the Netherlands 07/05/2005
The National Championship in France 04/09/2005
The Special Rottweiler Show in Penela , Portugal 13/11/2005
 In 2006,
Belgian Club Show 28/05/2006
International exhibition in Tarbes / France 25.05.2006
Special Rottweiler Show Sidney / Australia 30/09/2006
USRC Regional Sieger Show NY/ USA 28/10/2006
Jerez de la Frontera/ Spain 18.11.2206
Toscana/Italie / 10.12.2006
In 2007
CACIB Toulouse / France / 25/02/2007
Irish Championship / 12/05/2007
Campionato Sociale Bologna / 06/10/2007
In 2008
East Carolina Rottweiler Show/USA 22/03/2008
National Championship in the Netherlands 01.06.2008-08-16
Belgium  Rottweiler club CAC show  24.05.2008
Eastern Pennyslvania Rottweiler Klub 11 & 12/10.2008
In 2009
Vimercate / Italia 19.04.2009
IFR / Diest / BELGIUM 23.05.2009
Régionale France 25.06.2009
CACIB Malinnes / Belgium  22.08.2009
Madrid / Espagna 5 & 6.09.2009
In 2010
Jakarta / Indonesia 17.01.2010
Missilac/France        04.04.2010
In 2011
Lodz / Poland    18.09.2011
Rummen / Belgium / CAC  07.05.2011
In 2012   
National Sieger Show / St Louis/ 26/05/2012
Charleroi / Belgium / 07/10/2012 
In 2013   
Raduno di Lombardia / Italy / 05/05/2013
Dog Show Mons/ Belgium     25/08/2013
In 2014  
In 2015   
Toledo  / Spain   3 & 4/10/2015 
In 2017   
URRC Northeast Regional Sieger Show: 20 & 21/05/2017
Luxembourg:   02/09/2017
Next to these involvement,  I judge with D. Vandecasteele  all our Belgian Breeding  and Character Tests.
My education as a teacher pushes me always to improve my knowledge and the desire to pass it over to all real rottweiler Lover.
The rottweiler is a strong and powerful dog, he gives you the feeling to be untouchable and gives you more self-assurance. These dogs would give their life for you, so never disappoint them. You have to teach him respect but never forget to play with him. Without natural trust nothing is possible. With every litter a new dream can start. Will one of them make you happy as a good friend, as a working dog; will one of them become a champion?
All hopes and dreams are allowed! Our children also participated at the puppies education. They loved to play with them.
Since 1999 St Hubertus allowed us to wear the title "Elite Sport Breeder". I'm very proud of this. This honor title doesn't exist anymore.

We bred: